"I try to make the event fun. Make the athletes feel like they are competing in the Olympics, the Masters, the US Open. The key is to make it enjoyable and make them special."
The first ski race Tom announced was in 1983 in Waterville Valley. Since then Tom has been the 'live' announcer for over 850 sporting events.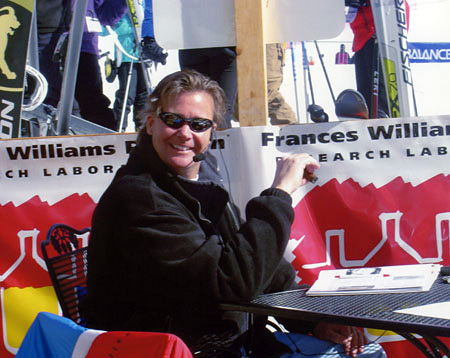 "Bobby Foster who was Director of Marketing in Waterville Valley asked me to work for the ski area in 83.' I said sure. He wanted me to emcee all the functions, from the welcome party to the awards banquet, and especially announce the ski race held on Thursday mornings. That's where my ski race announcing career began."
It was during the Governor's Ski Invitational in Waterville Valley where Bernie Willett of American Airlines and a sponsor of the event heard Tom announcing. He asked Tom to participate in the 2nd Annual American Airlines Celebrity Ski event benefiting Cystic Fibrosis in Crested Butte, CO and 22 years later the collaboration still flourishes.
It was Bernie who brought Tom out of Waterville Valley and introduced him to the world. The American Airlines Celebrity Ski event was the catapult that led to announcing gigs with Michael Bolton, Andre Agassi, Lance Armstrong, Ethel Kennedy, Keyshawn Johnson, Country in the Rockies, President Bush #41, and Frances Williams Preston, to name a few.
Sporting events Tom has announced live
World Cup ski races
World Cup Finals
Robert F. Kennedy Memorial Golf Tournament
American Airlines Celebrity Ski
American Airlines Celebrity Golf
Country In The Rockies Ski Race
Christa McAuliffe Ski Invitational
Merrill Lynch Celebrity Ski
Angel Flight Ski Race
Jack Williams Ski Race for Wednesday's Child
Ski for the Cure
Bob Lobel Ski Classic
Deer Valley SkiFest
WMUR-TV Winter Rodeo
Genesis Fund Ski Classic
Sgt. James Noyes memorial Ski Race
Fidelity Investment Legends Cup
Governors Ski Invitational
Olympic Ski Challenge
United States National Freestyle Championships
Boston Celtics Celebrity Golf Tournament
The Women's Pro Ski Racing Tour
Michael Bolton Celebrity softball game
Michael Bolton Celebrity tennis tournament
American Airlines Sacred Sales Volleyball tournament
AT&T Pebble Beach Pro Am Shoot-Out
AT&T Pebble Beach Pro Am 3M Celebrity Challenge
SEAL Naval Special Warfare Family Foundation
Blue Angeles Foundation Golf & Tennis Classic
Special Operations Forces Support Golf
United States National Alpine Championships
High School National Ski Jujkping Championships
American Airlines Charity Golf
New England Cystic Fibrosis Ski Challenge
Grand Marnier Chefs Ski Race
Coors Spectacular Ski Sensation for MS
BMW Corporate Grand Prix of Skiing
Red Auerbach Fund Golf Tournament
Friends of Bob Dole Ski Race