"I like to bring the audience in, make them feel part of the evening right away. I'm just up there doing my thing, having a good time, making everyone comfortable. They do seem to always enjoy it..."
Tom began his emcee career in the second grade. He remembers getting up in front of the class for the first time to give a one-minute talk on a current affair and it turned into 20 minutes. "I remember it like it was yesterday," says Tom, " the kids were laughing and I didn't want to sit down. It was great. When can we do this again, I said to the teacher? I don't remember getting an answer."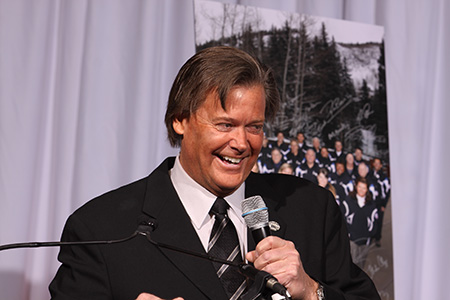 Tom did a little emceeing at Central High School in Manchester, NH and then after college when he was a tennis professional with the Laver-Emerson Tennis Holidays.
"The Laver-Emerson awards were great. We would have to get up and give a little speech before presenting awards like the All Flap and No Throttle, the Most Unteachable, The All Style, No Stamina, The PA award, the After Hours award, Walking Wounded, the Mandatory Attendance award. We had a bunch of them, and when I became Director of Tennis for the Rod Laver Tennis Holidays my emceeing duties expanded."
After Rod Laver Tennis in 1981 Tom moved to Waterville Valley, NH which was one of the summer resorts for the Laver-Emerson Tennis Holidays and the Rod Laver Tennis Holidays.
In Waterville Valley, Tom would emcee the weekly ski vacations, announce the Thursday morning ski race and emcee the nightly awards banquet.
Since the late 60's Waterville Valley Developer and President of the Waterville Company Tom Corcoran held World Cup races, which eventually led to hosting celebrity ski events.
It was at the Governor's Ski Invitational where Bernie Willett of American Airlines discovered Tom, and asked if he would announce the race for his new charitable event, the American Airlines Celebrity Ski benefiting Cystic Fibrosis.
Tom had to ask permission to go to Crested Butte to announce the race. Permission was granted and the rest is history. Tom has announced the ski race for 18 years and is the emcee as well.
"Bernie Willett is the man who got it all started. Michael Bolton heard me announce and emcee and asked me to do his event, as did Ethel Kennedy and the Robert F. Kennedy Memorial Golf tournament, Frances Preston (the CEO and President of BMI) began her event 'Country in the Rockies' for cancer research and asked me to come on board, Lance Armstrong, Keyshawn Johnson, President Bush's event, they all have a direct link to Bernie Willett and the American Airlines events. Bernie is the man!"
Events Tom Has Emceed:
Robert F. Kennedy Memorial Golf Tournament
Keyshawn Johnson Golf Classic
Fidelity Investment Legends Cup
Michael Bolton/Dave Mason Celebrity Golf
American Airlines Celebrity Ski
American Airlines Celebrity Golf
Country In The Rockies
Merrill Lynch Celebrity Ski
Angel Flight Celebrity Ski
Deer Valley SkiFest
WMUR-TV Winter Rodeo
Sgt. James Noyes Memorial Ski Race
Sizzlin' Country
American Airlines Sacred Sales Volleyball tournament
Flagship Charities
SEAL Naval Special Warfare Family Foundation
Blue Angels Foundation Golf & Tennis Classic
Special Operation Forces Gala
Brothers in Arms Foundation
American Airlines Charity Gala for MS