TELEVISION
"The greatest piece of television advice I ever received was, 'just be yourself.'
Again Waterville Valley was the breeding ground for Tom's television career.
"Cable television had just come into the Valley around 1983 and I was just thinking to myself, how do we get a local channel started. I asked one of our technical guys in the valley Al Moulton if it was possible and Al response, 'Anything is possible!' So that was good enough for me. We were on the air in a couple of weeks on Channel 6."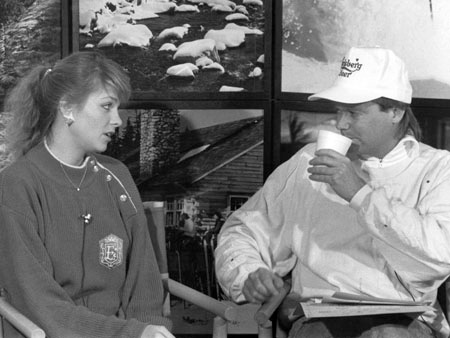 'Live on Saturday's' was the show and it was I think the winter of 1983 when we first went on. We must have been one of the first resorts to have a station, or at least a channel. Now every major ski resort in the country has one. We did comedy, interviews, serious pieces, live guests, whatever we thought of. I guess it was pretty popular because Bob Fries GM of the Waterville Valley Resort purchased state of the art equipment. What a day that was. We now had editing equipment, so no more stacking 1/2-inch tapes with our segments hopefully cued."
From 'Live on Saturday's' Tom was discovered by WBZ-TV4 News' Director Stan Hopkins who suggested Tom do a pilot as the New England Ski Reporter to be aired on the 5:30 news edition of WBZ.
The pilot went well and the following winter Tom began a long stint as the New England Ski Reporter for WBZ-TV4 in Boston and WMUR-TV9 in Manchester, NH.
The ski reporting dovetailed into a summer series of tennis instructional segments for WBZ-TV as well.
Tom has been the talent for numerous events both internationally and nationally.
New England Ski Reporter - WBZ-TV4 Boston, MA
New England Ski Reporter - WMUR-TV9 Manchester, NH
Tennis Instructional Segments - WBZ-TV4 Boston, MA
NBC Sports World - World Cup Ski Reporter
Anchor/Host WVTV - 20 years Waterville Valley, NH
Host for 22 Bermuda 8 Golf Tournaments
Host for the American Airlines Celebrity Ski and American Airlines Celebrity Golf Welcome Video
FILM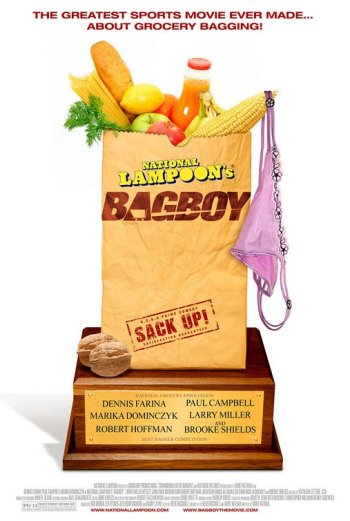 I unexpectedly ran into Actor/Producer Rob Moran and his wife Julie in Deer Valley, Utah at the Stein Erikson Lodge where the next day I was to begin emceeing/announcing the Deer Valley Celebrity SkiFest. I said I didn't see your names on the celebrity list. Rob mentioned they were not at the event but had just come up for a night away from filming his movie in Salt Lake. He asked me what I was doing, I told him, he then asked me what I was doing next week. I said doing some skiing. He said, "Do you want to be in my film as the main event announcer?" I thought for a 100th of a second and said, "abso-friggin-loutely!"
National Lampoon/Farrelly Brothers Film - Bag Boy as the Main Event Announcer